Jeff Bolton featured guest on Podcast
Airplane Geeks Listen here >>
From the Podcast:
"Our guest is the only person ever granted access to film the B-2 stealth bomber from the cockpit in flight. He's producing a television series examining the United States military's global nuclear mission in the 21st century. "
---
Tac Ops Listen Here >>
From the Podcast:
"Incredible episode this time! We have on Jeff Bolton, who has had an extremely interesting career… flying in the stealth bomber, fighter aircraft, being in the field on the front covering wars in Afghanistan, Libya, Iraq, and others, among many many more things."
24-Hours In the B-2 Stealth Bomber
In advance of his feature series about STRATCOM in the DEFENSE NEWS family of publications, Jeff flew a 24-hour mission in the B-2 stealth bomber simulator at the highly guarded Whiteman Air Force base in Missouri. Full details to follow starting April 16, but Jeff described the experience like this: "I couldn't imagine ever flying a mission like that in the mighty stealth bomber – now I can't imagine never NOT having done it…in a phone booth. Mind-bending, epic, exhausting and exhilarating – all at the same time…"
Defenders Of Freedom Lunch
Donna and the team at DOF continue to serve military families with grace and verve. As a host committee member for DOF, Jeff attended an informational lunch meeting where DOF reaches out to the community to explain their missions to help military members and families with emergency needs and brain health.

With many years of fighter jet and exotic car time under his belt, Jeff, tosses out the famous Maverick quote often, "I feel the need…the need for speed!" That means regular trips to his good friend Jack Farr's DriveXotic speed emporium. Jack opened the very first "sports car country club" in America, Motorsports Ranch in 1996, and he continues to innovate with forward looking projects like DriveXotic. DriveXotic gives people an affordable opportunity to drive exotic dream cars on the track at Motorsports Ranch in a fun, challenging, and supervised environment. The McLarens, Lamborghinis and Vipers were busy with Jeff behind the wheel!
The Purple Foxes Gold Star Dinner and Reunion
The world-famous Purple Foxes of United States Marine Corps Medium Tiltrotor Squadron VMM-364 (formerly HMM-364) traveled to Dallas for a series of events honoring their fallen and their long legacy of vertical lift as Marine aviators in the Corps. Jeff and Blaine have been connected to the Foxes for many years via their friend COL Sean "Kidd" Killeen, USMC (ret.), former commanding officer of the Purple Foxes. Along with their dear friends Mark and Cyndy, who opened their home to host two incredible events, they spent the weekend walking among heroes, and sharing memories with Gold Star families, whom Jeff refers to as "American Royalty".
Talk Radio 1210-WPHT, Philadelphia, PA
Jeff took a deep dive into government shutdown mania in talk radio on 1210 WPHT. With hot opinions and a ton of listener calls it was a wild week for him.
STRATCOM 2018 Deterrence Symposium
Jeff traveled to Omaha for STRATCOM's (U.S. Strategic Command) annual gathering of nuclear deterrence professionals. The event brings academic, government, military and international experts in the field to explore a broad range of deterrent issues and thinking. Jeff spent time the commander of STRATCOM, GEN John E. Hyten, and GEN Robin Rand, commander of USAF Global Strike Command discussing the DEFENSE NEWS STRATCOM series and the GUARDIANS television series. Both leaders are anxious to tell the stories of the hundreds of thousands of young men and women in their commands who support America every day by wearing the cloth of their Nation.
The Boltons celebrated the birthday of our family friend "Uncle Howard" – known to the world as epic bad-ass Navy SEAL sniper Howard "Vampire" Wasdin. Vampire wrote the New York Times best seller SEAL TEAM SIX "Memoirs of an Elite Navy Sniper", and you will not find a finer warrior, friend and American. He's written a number of additional books I can recommend, and he's in high demand as a keynote speaker. Keep up with his highly dynamic life here: howardwasdin.com … and yes, he's just as cool as you imagine he is…

International Council of Air Shows (ICAS)
The Cavanaugh Flight Museum (CFM) team attended the largest annual gathering of airshow professionals in the world in Las Vegas. Jeff and the team worked hard to book CFM's "Vietnam Combat Search and Rescue Airshow" at airshows across the country for 2019 and 2020. The show honors all Vietnam veterans and is an awesome aerial spectacle – learn more about the show here:
OPERATION CARE INTERNATIONAL GALA:
Among some of America's most secret warriors, Jeff and his team embedded in the B-2A Spirit community for a week to tell the stories of these valiant fighting men and women in an upcoming 2019 series of articles, photographs and videos in the Defense News family of media outlets. Jeff became the only person in the history of the program to both fly and film aboard the ultra-secret national asset.
flightmuseum.com
operationcareinternational.org
Photo: Jeff with 100 year-old U.S. Air Force Captain Orville Rogers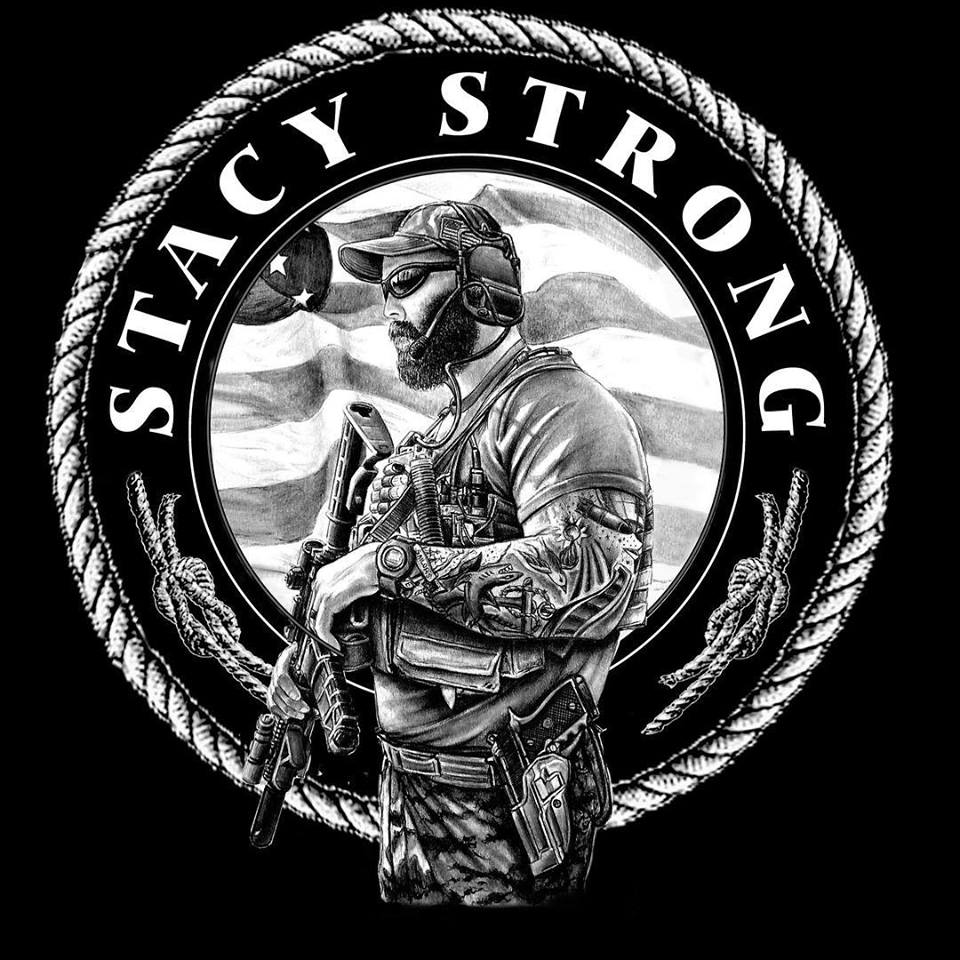 Jeff and Blaine celebrated the service of Chief Petty Officer Kenton Stacy who was grievously wounded in by an IED (improvised explosive device) while carrying out a mission in Syria as a U.S. Navy EOD (Explosive Ordnance Disposal) expert. There are many efforts to honor and assist Kenton and his family; go here facebook.com/EODCKentonStacy to learn more and jump in to assist this outstanding American and his family. I had the honor to proudly wear my Stacy Strong t-shirt during my B-2 stealth bomber flight. #StacyStrong!
ALL THE PRESIDENT'S PENS AUTISM EVENT
Jeff and Blaine attended a gala event at The George W. Bush Presidential Library and Museum with dear friends to raise funds for the 29 Acres Autism Facility. The evening featured an extraordinary collection of Presidential signatures and documents and was a tremendous success.
Jeff headed to California emcee the annual Seven Stars Foundation Golf Tournament in Claremont. Joe and Laura Landaker have built a remarkable non-profit to serve the children of military members in honor of the crew of Marine Corps casualty evacuation mission Morphine 12. The crew, including their son, 1st Lt. Jared Landaker, was shot down by enemy fire in Iraq in 2007 with the loss of all seven crew aboard. From that horrible loss, the Landaker's and their supporters are making it possible for children of military families to attend week long summer camps across the country. Click here to support this fine organization and to learn more – they have my highest endorsement: sevenstarsfoundation.com
Jeff completed a week of briefings in Washington D.C. for the "Guardians: A Mission For Peace" television series. The briefs were conducted with media, industry, congressional, defense and White House personnel. The twelve-part television series is the first major effort to examine the proliferation of weapons of mass destruction since the end of the Cold War. While in D.C. Jeff stayed at the home of a fantastic American military family – CWO5 Vernadel Green, USMC, (ret.) and his lovely wife Colleen.
Photos: Jeff at the National Press Club, Washington D.C.
The Cavanaugh Flight Museum team traveled with six warbirds, including the newly acquired Huey helicopter, to the west Texas desert for the annual Midland Airsho. The museum's new flight demonstration, "Vietnam Combat Search and Rescue" was a huge hit with the crowds on both days of the event.
Jeff's dramatic narration provides the backdrop for the simulated rescue of a downed pilot behind enemy lines. With the Cavanaugh flight team and maintainers whirling through the sky amid big pyrotechnic explosions on the ground, it's truly a magnificent show.
Vietnam CSAR is a beautiful tribute to the men and women who served faithfully in Vietnam.
OPERATION CARE INTERNATIONAL TELEVISION SHOW
Jeff had the honor of going in studio to interview Susie Jennings, the founder of Operation Care International, as well as a number of her supporters for an upcoming program on the INSPIRE television network. The thirty-minute program focuses on the incredible mission of OCI to serve homeless people in the U.S. and abroad.